BILL HUNT
Born in Nashville, Tennessee, Bill's early exposure to films such as JAWS, KING KONG and Universal's FRANKENSTEIN ignited an interest in horror and special effects. By pre-school he was drawing his favorite monsters and sculpting followed soon after.  Focused on forging a career in special make-up effects, he spent his childhood teaching himself from books, magazines and behind-the-scenes documentaries.
In 1992, Bill got his first break and was hired by K.N.B. EFX Group to work onJASON GOES TO HELL: THE FINAL FRIDAY. He moved to Los Angeles, and over the next several years, he worked with classic horror film directors Wes Craven, John Carpenter, Sam Raimi and Clive Barker, along with rising talents of the time like Quentin Tarantino, John Woo, Robert Rodriguez and Tim Burton. He did labwork, sculpted, painted, designed, applied prosthetics, puppeteered and did production art and storyboards as his resume grew with titles like IN THE MOUTH OF MADNESS, FROM DUSK TILL DAWN, SPAWN, ERASER, THE
FACULTY, SCREAM, THE X-FILES and PULP FICTION.
Bill was brought to New Zealand in 1998 to work on THE LORD OF THE RINGStrilogy. At Weta Workshop, he joined the conceptual design team and began work on a variety of Middle Earth denizens. Unique amongst the crew, Bill saw several creatures/characters through from conceptual design, sculpture, on-set prosthetic application and finally to the collectible statues merchandise, including among them, the Orc commander, Gothmog.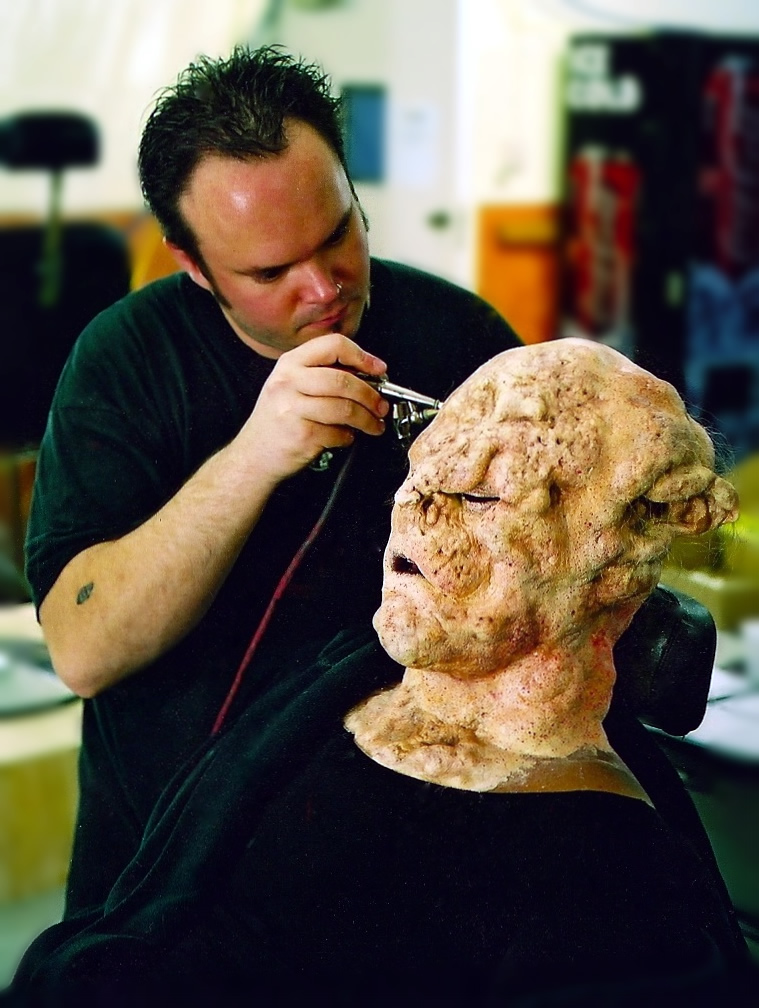 From 1999 to 2003, Bill was alternately on set applying prosthetics, in the workshop sculpting several of the original run of Weta/Sideshow LORD OF THE RINGS polystone collectibles or working on films like THE LAST SAMURAI and PETER PAN.  It was during this period that he began developing his own film ideas, writing and designing on a handful of projects.
In 2003, the final days of filming on THE LORD OF THE RINGS: THE RETURN OF THE KING segued into preliminary design work on both Peter Jackson's KING KONG and THE LION, THE WITCH AND THE WARDROBE.  Assigned supervisor duties of the Weta sculpting department for KING KONG, Bill had a hand in sculpting almost every inhabitant of Skull Island.
By 2006, Bill had returned to development of his own film ideas, forming a production company with Sherryn Matthews called Unlit Vistas.  Meanwhile, he continued part time with Weta Workshop on films including LEGENDS OF ZORRO, ROGUE, BLACK SHEEP, THE WATERHORSE, DAYBREAKERS, 30 DAYS OF NIGHT, DISTRICT 9 and AVATAR, before coming full circle back to early conceptual design for THE HOBBIT.
Leaving Weta Workshop in 2009 to devote himself to Unlit Vistas' projects, Bill made his feature directorial debut with the micro-budget independent thriller, FUNDAMENTAL, released in 2012.  Since then, he continues to develop further Unlit Vistas projects and sculpt for films such as THE DEAD LANDS and Universal's DRACULA UNTOLD.  Tutor to a select few, his primary focus is creating original Bill Hunt Studio art.
He lives in Kaitoke, New Zealand with his wife, Sherryn, and their throng of animals.